Back in 2008 the world as we know it changed forever with the advent of the credit crunch and banking crisis. At the same time, the internet continued to change the way people do business. It's been a rocky ride for some. Here are seven of the most dramatic business failures for 2013.
HMV take a nosedive… then recover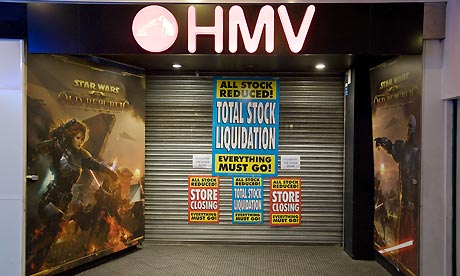 In January 2013 HMV, a high street staple for many years, failed and went into administration, mainly because it didn't fulfil the needs of a rapidly-changing market where music was being consumed in dramatically different ways. While HMV enjoyed an impressive 22% of music and video sales in 2012, according to Verdict Research, it just wasn't enough.
A few months later, in November 2013, we find the Mail Online reporting 'adoring fans' cramming into HMV's flagship London Oxford Street store as The Wanted arrive to sign copies of their new album. With a new website sitting at the heart of their refreshed offering, plenty of Brits are wishing HMV well for a fruitful future as the 'home of entertainment'.
Bye bye Blockbuster
Blockbuster was another high street favourite that failed to keep up with the digital revolution. Once the go-to destination for all things video, they launched an online DVD rental arm in 2002. In fact blockbuster.co.uk claimed they sent out more discs per customer than other online DVD rental services in the UK in the good old days, but fierce competition gradually undermined their market share. Today they're gone, nothing but a fond memory on our high streets.
The third time for Barratts shoes
Earlier this month Barratts Shoes went into administration for the third time in four years as an investor changed their mind about a £5 million cash injection. The administrators have revealed they're reviewing the organisation's finances and planning to sell the business. Barratts'
75 shops, plus 23 concessions, are currently trading as usual but further announcements about the chain's future are on the cards shortly.
Hotels have an unhappy year
In May 2013 we saw reports about the dire state of the hotel industry, with a sudden and unexpected increase in hotel insolvencies. From February to April 22 hotel businesses went bust, a figure almost twice the size of the previous quarter, despite insolvencies falling across almost every other business sector. Commentators blamed the run of bad weather in the UK, which 'decimated' the hotel trade at key times such as Valentine's Day, half-term and Easter.
Modelzone bites the dust
The popular Sussex-based toy and hobby shop Modelzone went into administration in late June 2013 after a long struggle, losing £750,000 in 2012 after a disastrous and 'unrealistic' expansion plan left it with a massive rent bill it was unable to honour. In October 2013 the high street stationer WHSmith announced its acquisition of the ModelZone brand, and they're planning to sell the brand's toy and hobby products through existing WHSmith stores.
Tie Rack departure
Tie Rack, the tie, scarf and accessories shop, went into administration. But it didn't go bust. Instead it has remained a popular online retailer. On 19th November 2013 the company announced they will begin closing their remaining 44 retail stores from 20th November 2013.
Nicole Farhi failure
Nicole Farhi was, for many years, a British fashion icon. But they went into administration in July, closing six stores and ten concessions. Set up in 1982 by Nicole Farhi herself and her husband Stephen Marks, the boss of French Connection, it was sold to the private equity firm OpenGate in 2010, who in turn sold it to another asset management firm, only to continue making a loss. The administrators were appointed in summer 2013 and the website is still in operation.
Who is at risk in 2014?
While the British economy is slowly improving, we will probably still see some surprises for 2014, as businesses that fail to keep up with rapid technological and cultural change die a death. For more information on the business sales sector, visit Christie+Co for up to date news and opinion.
Written by Tom Harper, a business agent interested in global mergers and acquisitions.
The following two tabs change content below.
Administrator and Chief Editor for TLB. Loves to talk. Super freak about publishing. Loves watching obscure movies, good cook and overall gentle fellow. Reach him if you want to write an article for TLB. Email him on marty@thelocalbrand.com
Latest posts by Marty Huggins (see all)